For many ISO-certified asset management systems, a well-maintained internal inventory schedule is a requirement for compliance. However, any business that wants to make sure it is running efficiently should consider performing regular internal inventories as part of its operational processes.
A successful internal inventory helps businesses determine not only what assets they have on hand, but as importantly, if their documented inventory process is accurate, correctly implemented, and effectively maintained. Having a regularly scheduled set of internal audits will help spot issues that cause gradual deviations from the business' standard practices.
To conduct an internal audit properly, a business needs to decide the following:
Who will perform the audits and when
What they will audit
To whom the results will be communicated
How to ensure any needed corrective actions take place
Inventories have evolved from routine checklists to a vital part of a company's governance process. Factors such as the volume of transactions, better information technology, and changes in the regulations and standards governing entities and their auditors have all had a significant impact on the way businesses must conduct inventory.
One key to success is ensuring that inventories occur at planned intervals. Each organization must establish the frequency that is appropriate for the business, typically monthly, quarterly or annually.
Irrespective of the frequency, another important element to success is how seamlessly an organization can schedule its internal audits. For organizations which rely on personnel sourced from various business units, it is critical that personnel schedules are booked well in advance so that the inventory schedule can be met along with their other work priorities.
With the above thoughts in mind, it is highly recommended that organizations use inventory management software which enables a business manager to make the inventory / audit scheduling process as effortless and efficient as possible.
The following image depicts the typical lifecycle of a scheduled inventory or audit cycle: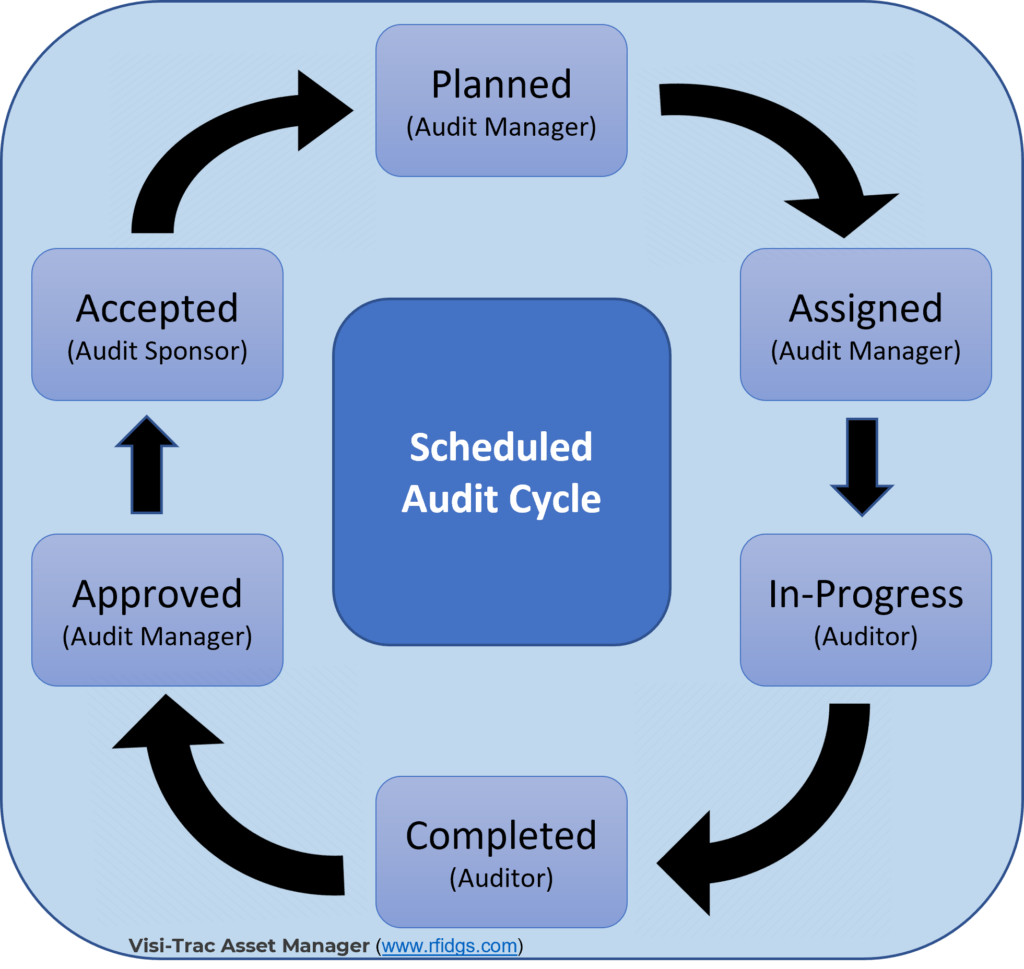 Every scheduled inventory cycle starts when an operations manager plans the inventory and ends only when the inventory is accepted and closed. The major steps and consideration are:
Plan: The Inventory Manager plans and schedules an inventory. The inventory management software should have the ability to create schedules at various levels, such as at the Room, Zone, Floor or Building level, or even at a Metro area or business campus level. Another beneficial feature is the ability to define recurring audit schedules.
Assign: Once an inventory is scheduled, the inventory task is assigned to specific personnel. Here come the important management questions, such as 'Who is available to perform the inventory?'; 'How many personnel are needed?'; 'Are there any time-constraints?'; 'If so, how many auditors will be needed?'; and 'How can the schedule be accelerated with extra staff or additional shift work?'. When an assignment is made in the inventory management software, it should automatically notify the designated personnel so they are aware of the schedule.
Perform: When the inventory taker logs into the software, their job is made easier because the tool provides a list of only the audits they are assigned to, with assets they are to count listed by location to be inventoried.
Complete: When the inventory is complete, the inventory taker submits the information and the software automatically notifies management that the inventory has been submitted.
Approve: The manager, upon receiving notifications after inventory completion, can open the audit information and perform any necessary reconciliation of exceptions, and approve or return the audit for correction.
Accept: With the successful completion of the scheduled audit cycle, either the Audit Sponsor or the Audit Manager will verify the results and close the current cycle.
We can help you remove complexity from your inventory process, streamline your scheduled audits, and optimize your processes for greater efficiency. Reach out to us via our Contact Us form or send an email to sales@rfidgs.com.